Hey Mark,
I collected my degree at the weekend.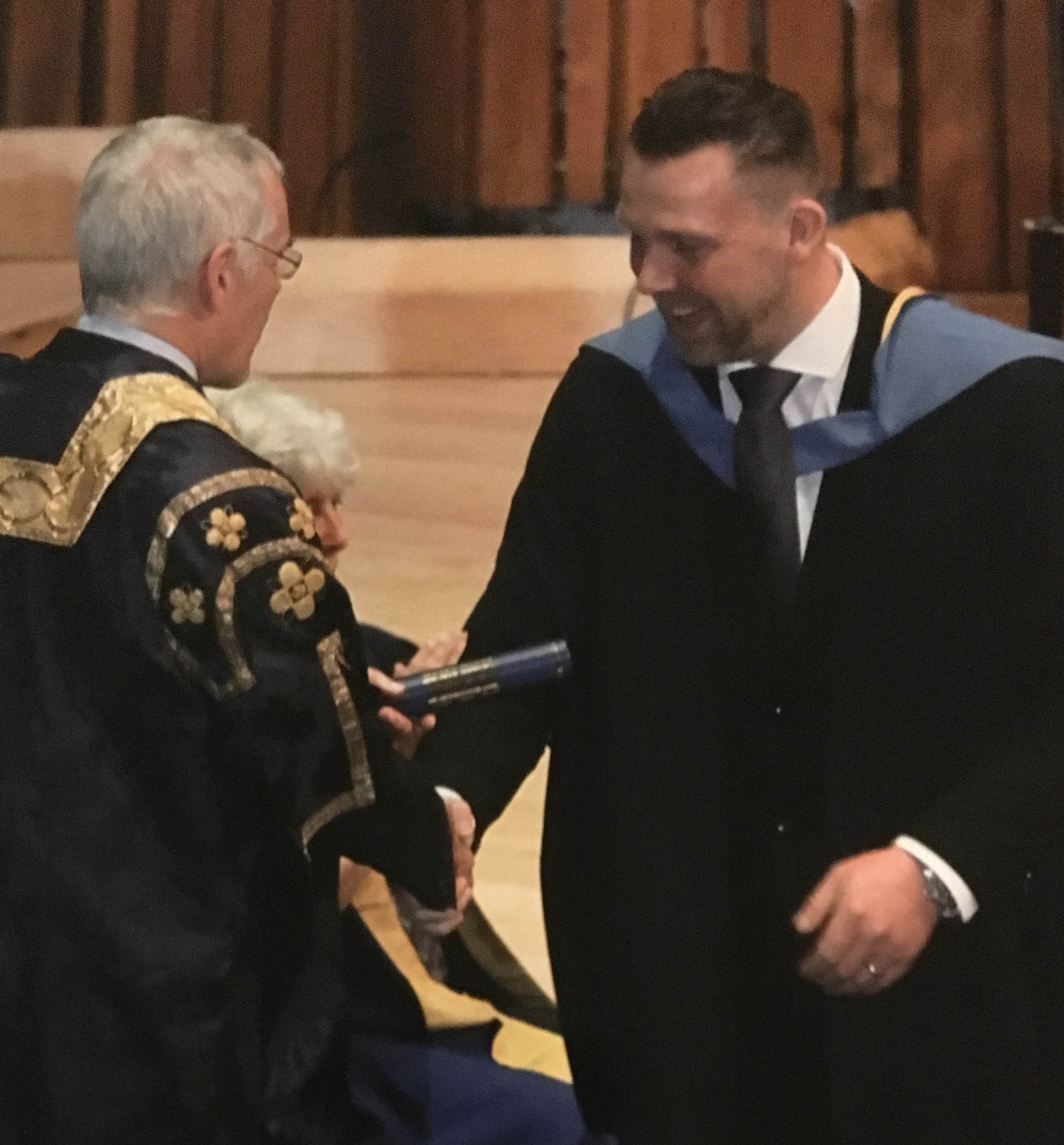 Thank you for all your help over the years.
There is no way I could have made it without your help.
I got a 2.1 in the end but was so close to a first. All the best, Darren
March 2017
_____
_____
I decided to re-sit my GCSE Maths as it was essential for my chosen course at university. I am currently in my second year at college and I could remember how maths hadn't been my easiest subject at school, where I achieved a C and so I felt a little nervous thinking about studying the subject again. I had only two months to study for the exam in November and so I had the feeling that it was probably unlikely I would get the grade I needed. However, when I began being tutored by Mark, once a week from September, I found that Maths was not so bad after all as he explained everything in an easy way and was very patient whenever I had difficulty grasping a mathematical concept. Also, he made me feel confident about the two exams that I was sitting. A couple of days ago was results day and I got the grade B I needed! I know that I would definitely not have achieved this grade if it wasn't for all of Mark's help and so I would certainly recommend him for anyone looking for a tutor. Thanks again Mark! Jake Connor, January 2014.

_____


Mark has tutored me for as long as I can remember, and has been incredibly helpful across several stages of education.
I have found his help crucial in developing a confident base in Mathematics, clarifying school material at my own pace, and he has never failed to inspire further exploration of the subjects encountered. I am currently very happily studying Maths at Bath Uni and owe in large part the success and drive I have today to early work with Mark. Learning with Mark has always proved far more accessible than a classroom situation, his friendly and patient teaching style making sessions enjoyable and memorable. Most notably he has always seemed to invest in his students as much as possible, even now at uni still offering support through email for any concerns. I really couldn't recommend him more for anyone looking for a tutor :) (Thanks for all the help Mark!) Adam Lord, June 2013

_____
Mark is an outstanding tutor! He is extremely patient and with his support, I was successful at GCSE and went on to study Maths at Advanced level. I am now a physics undergraduate at Sheffield University. Mark has the ability to explain very complex concepts in a simple way. I do not think I could have achieved what I have without Mark's help and encouragement. Ben Wilson, Ramsbottom, May 2013.
_____
Hi Mark, I just thought I would let you know how I got on. I got my A in further maths, and thanks to all your help and support my highest score in all my maths papers was FP3 - I got 95/100! I just can't believe it and would just like to say thank you for everything you did, and your teaching style really helped me to understand the subject. The A in Further Maths allowed me to get into my first choice uni, which is LSE. So thank you again. All the best in the future, Greg, from Northwich.
_____


Mark, Just a quick note to say how grateful we both are for the help, encouragement and very professional tuition you have given to Dominic over the last couple of years. He has achieved an "A" at GCSE, a grade we thought was unattainable two years ago. A very big THANK YOU for the way in which we have seen him grasp and understand the many mathematical concepts needed and the confidence you gave him to tackle the subject. You transformed his view of maths and his understanding and application has also helped greatly in achieving excellent grades in subjects such as science and business studies. Once again, many thanks - we would certainly recommend you as a tutor to anyone who wants to see their child achieve at the top level. Best wishes, John and Carolyn
_____


I was in my last year of high school, my target grade for Maths was B. When I sat my mock exam in November 2007, I received a grade D and my confidence had gone. Mark began tutoring me once a week from December through to the exams in May and in the results last week I attained a B. Mark was an excellent one to one tutor, he gave me so much confidence and taught me many new easy to understand methods to problem solving. His teaching style really suited me, he would listen and show me where I was going wrong and then test me over and over to ensure I had remembered. Mark was really good at focussing on what I could achieve and how to get a B so we did not waste time on topics that would prove out of my range. Not only did Mark help me in my Maths but all in all he built up my confidence after not doing as well as I should have done in my mocks across all subjects. This helped me pass all 11 subjects entered at GCSE, all except 3 were at grade B or above. I would strongly recommend Mark to anyone looking for a GCSE maths tutor. Mike, Castlebrook High School, 2008